No one wants a guilty conscience on their wedding day, but most people are unaware that the production of a single gold wedding band can create at least twenty tons of waste and thirteen pounds of toxic emissions.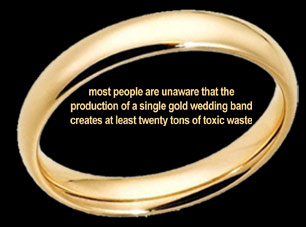 Because most of the world's large gold veins have been tapped out, miners are now resorting to chemical processes to leech small amounts of gold out of the earth. Large, open pit mines are created by blasting out the earth. The extracted ore is pulverized and then treated with a toxic chemical solution to separate the gold from the rock.

Irresponsible mining practices in developing countries make this process extremely dangerous to the environment. Some of the largest mine sites move over half a million tons of earth per day, leaving scars on the earth that can be seen from space. Waste laced with thousands of tons of cyanide is being dumped into rivers and oceans. Yes, you read that correctly- cyanide, the same poison used for the mass murder of millions in the gas chambers during the holocaust. In 2000, a spill of 100,000 tons of toxic waste from a gold mine in Romania cut off water supply to 2.5 million people and killed nearly every single fish in the surrounding area. But these accidents aren't just occurring in developing countries; in 2008 metal mining was the number one toxic polluter in the United States accounting for over 80% of arsenic, mercury and lead releases.

The good news? Gold has an amazing propensity for recycling. Old gold can be melted down, refined, and brought back into the market as new jewellery or even computer parts. Recycling your old gold jewellery is a great way to do your part for the environment and make some extra cash while the price of gold is so high. In fact, most people are amazed at how much the gold that has been gathering dust in their jewellery box is actually worth!

Gold recycling is not a new thing: JayLyn Jewellers has been purchasing gold for over 20 years! Over the past two years, when the value of gold really started climbing people began to view their old gold jewellery as an investment that they can sell when the time is right. With gold climbing over $1,600/oz, the timing couldn't be better for those wanting to sell now!

Bring your broken or unused old gold necklaces, earrings, pendants, bracelets, rings and even dental gold. Our professional and experienced staff will sort your gold by karat using a chemical assay, weigh it out, and give you an estimate based on the day's top market value of gold. If you are satisfied with your quote, we'll will write you a cheque on the spot. No appointments are necessary, just walk in with your old gold and leave richer.

So, avoid a guilty conscience and recycle your gold. Who knows? Someday your old gold might be slipped onto someone's ring finger as a brand new wedding band, while their fiancée vows, "With this ring I thee wed... and save our earth from twenty tons of waste".